Ohh...ho ho ho... Happy Birthday !!!

It's
eMenang 2nd Anniversary
and it's everycomper's Birthday....
BUTzz.... to get your OWN Present... you gotta
BLOG IT OUT !

!
xD ... weeee ~
Before I getz you bLur , a lil introduction about eMenang 1st ....
eMenang is a
fairyland
(for me) ... where you can see your desire things drop from sky ...=] ~
and ofcoz .... you gotta put
"EFFORT"
in it ....
and now... eMenang is organizing Contest as
reward, appreciation, present
... etc etc ~ to all of you =D !!
While wishing eMenang "
Happy Birthday
" ... would love...
to
"Thanks"
eMenangites
for thier contributions....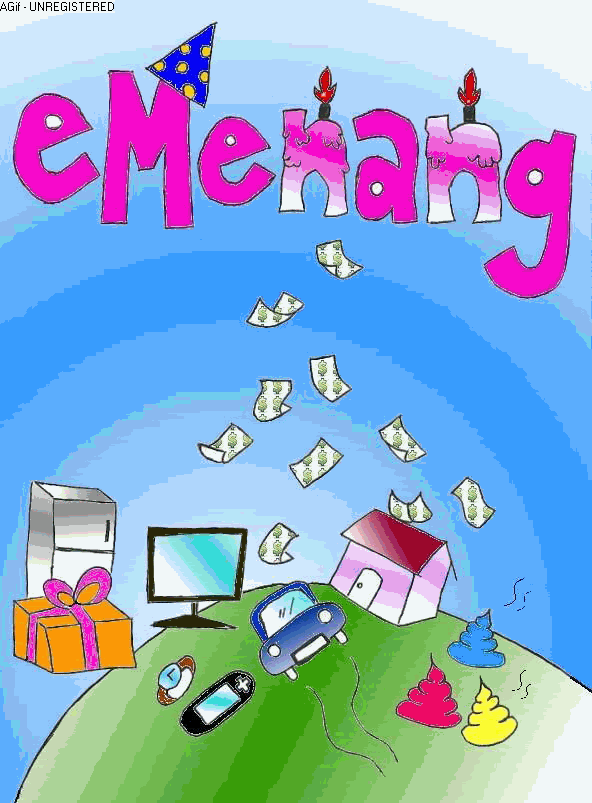 Dream house, Dream car, LCD TV, PSP, Watches, Gadgets, Cash and all kind of colourful
sHit are falling on you... xD !! Do you smell it ???
Now... take a Deep Breath and
CHECK IT OUT !! ~
1st eMenang Contest - Spot the Icon
5 mini icons of our prize sponsors have been hidden all over eMenang Community Forum. Every icon carry a special code and you must collect all of the codes to take part in this contest.
All the icons are hidden in a specific forum topic within eMenang Community Forum. The secret code will appear at the bottom area of every icon. Below are all the clues on how you can find these icons.
ICON 1: "If I were a House Bunny, I would".. ..
ICON 2: "I am not a 'SuperDaddy', I'm a …."
ICON 3: "Shout your way to the Premium Version!"
ICON 4: "I Feel Yeh!"
ICON 5: "Gua ada bakat+masa"
Contest ends on 12 midnight of
22nd March 2009.
Winners will be decided based on all correct answers and followed by the best slogan. List of all winners will be announced on eMenang.com by 31st March 2009.
2nd eMenang Contest - Win Gin & Jacqie Bags
Create a slogan in
LESS
than 40 words.
"If I could design my own practical and functional bag which I could carry everyday and cost below RM40 it would be…"
Pssst.... you are allow to submit
AS MUCH AS POSSIBLE
for all the contest !!!
goOOoo , start your engine!! ~
3rd eMenang Contest - Blog & Win
Simply blog about eMenang 2nd Anniversary Contest and place comment on the
Official Article
. Don't forget to place your link in the comment. Best blog will win a special
Sony Alpha watch + Goodie bag from eMenang.com.
Submit your link latest by
23rd March 2009.
-
Yea... you can see I'm taking part in this one right now =} ....

-

Let's Challenge , gRrRrrRR ~
together we
gambate
, wait and see the Blog winner is you or me on 31st March 2009 =D ~
All the contest is organize by our founder
Mr. Sha @ Chopperman
... x} ~
where the BLOG & WIN Contest is sponsour by our ...
Otai Comper
Vic Vic
....
nope, nobody knows is he lovess to chop...
but Thanks him for making
eMenang the best place
and

Vic Vic

for the

Sony alpha watch

and
HEYyyy , the

Roboraptor

is

NOT

included !!
And
NOT TO FORGET
special thanks
AliceWonders.com
,
gin & Jacqie
,
waahhh.com
,
NTV7
,
Gua.com.my
and
all emenangites
for the kind sponsorship of this contest.